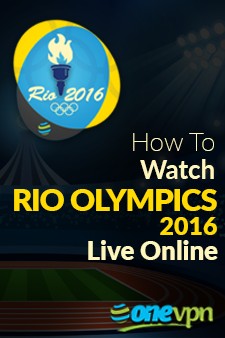 It's a moment of joy for the summer Olympic fans as OneVPN opens up the doorway to Olympics Rio 2016. Watch Rio Olympics 2016 live online with OneVPN for as low as $1.
Wan Chai, Hong Kong, August 1, 2016 (Newswire.com) - The best athletes have prepared themselves to entertain viewers via Olympic Games in 2016, after four years. Summer Olympics 2016 is going to be held from 5-Aug to 21-August in Rio de Janeiro, Brazil. This is surely an amazing news for everyone but many fans are perplexed due to the geographical restrictions that they have to face while accessing the games.
OneVPN has its Web TV for fans who are out there looking for ways to watch Rio Olympics 2016.
How to Watch Olympia 2016 Online
In order to watch Rio Olympics 2016 online, you, as a user would require buying OneVPN subscription of your choice. Then you'll need to setup VPN on your desired device and connect with your desired country server. Once you are connected, you can watch Rio Olympics online with total ease.
Where to Watch Rio Olympics 2016
OneVPN seems glad to help the viewers who are into sports and have even shared with us a list of channels where viewers can stream live and watch their sports at ease:
1.       BBC Sports
2.       NBC Sports
3.       7 Network
4.       Canal Plus
5.       ESPN Sports
These channels, however, will not broadcast all the Olympic Games, so you will need to have the complete list of channels. Get the Rio Olympics broadcasters list and a more detailed How-To here: How to Watch Rio Olympics 2016
Web TV: One Key to One Thousand Locks
Rio Olympics will be streamed through Web TV. The Web TV will provide users the access to watch Olympics Rio via live streaming from anywhere in the world as this feature was specifically introduced to help users with their streaming problems. Users are also able to access their favorite movies, TV shows and other programs with Web TV.
Farooq Asad, the CTO at OneVPN stated,
"OneVPN's Web TV was planned because we wanted to promote global internet freedom as everyone should be able to watch their favorite shows/sports from anywhere they want. We wanted to provide people the opportunity to watch Rio Olympics 2016 with OneVPN at the lowest possible price, which is $1/month".
Source: OneVPN
Share: