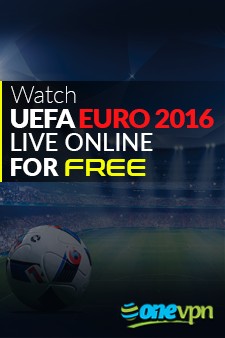 OneVPN is inviting people from all around the world to subscribe and watch UEFA EURO 2016's quarterly kick-offs and upcoming hits of the Semi-finals and finals for free.
California, USA, July 9, 2016 (Newswire.com) - Football is one of the most popular sports in the world and that is for all the good reasons. During every tournament, each year, people from various places come to watch their favorite footballers play the best of their game.
While many of the fans get the chance to watch whole matches, most of them don't even get to catch a glance. This happens because of the regional content viewing restrictions. OneVPN users, however, never worry about such things as geo-blockings don't even exist for them!
OneVPN is inviting the fans to join OneVPN network so that they can stream and watch UEFA EURO 2016 on beIN sports from just about anywhere in the world. This is not all but OneVPN subscribers also get FREE Ad-Blocker that eliminates all the annoying ads on streaming sites!
The list of features won't stop here as OneVPN also provides users with privacy and complete protection against malware and various other kinds of viruses. Thus, watching UEFA EURO 2016 with OneVPN seems to be just the right thing for football fans, particularly because OneVPN is FREE to use!
Though the finals are still a few weeks away, the football fans are advised to setup OneVPN without any delay as the FREE OneVPN offer is about to expire in a few days from now. OneVPN's FREE full-featured subscription can be acquired from www.OneVPN.com. It is said that once a user has configured OneVPN on their preferred device, they would no longer have to search about where to and how to watch UEFA Euro Finals.
Source: OneVPN
Share: