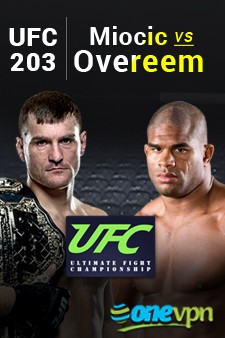 OneVPN brings an offer for UFC fans to virtually teleport their devices to another region to watch UFC 203 - Miocic vs Overeem.
Wan Chai, Hong Kong, September 8, 2016 (Newswire.com) - The most anticipate fight of this year's UFC in the heavyweight division is almost here. In the upcoming UFC fight, UFC fans are getting the chance to watch some of the most interesting matches with huge stars including Overeem, Miocic and CM Punk.
Miocic vs. Overeem in main event is catching quite a hype for the Saturday evening. The UFC heavyweight champion Stipe Miocic is going to touch gloves with Alistair Overeem on 10th of September 2016, at Quicken Loans Arena in Cleveland, Ohio.
UFC streaming fanatics are in for a treat as CM punk is also making his debut against Mickey Gall, along with some other interesting matches. Following is the schedule for UFC 203 main card and prelims:
Main Card
Title match (main event): Stipe Miocic vs. Alistair "The Reem" Overeem
Werdum vs. Browne
Punk vs. Gal
Faber vs. Rivera
Andrade vs. Calderwood
Prelims
Eye vs. Correia
Tavares vs. Magalhaes
Lentz vs. McBride
McCall vs. Borg
Early Prelims
Madeiros vs. Spencer
Dollaway vs. Barrosa
Dober vs. Gonzalez
Hadzovic vs. Kasuya
This Pay-Per-View is super-awesome as there are going to be lots of kicks and punches to thrill you. However, fans that are mistreated by Geo-restrictions have been reached out by OneVPN on a virtual ride to teleport their devices to Quicken Loans Arena in Cleveland and watch UFC 203.
Why Do You Need OneVPN to Watch UFC Live Online?
Fans willing to watch UFC 203 would need a service like OneVPN to enjoy UFC matches because not all the VPNs out there are coming with such unique features. To put light on the reasons to watch UFC 203 with OneVPN, OneVPN's CTO stated;
"Speed, lag and interruptions are what ticks a person off and UFC is not that kind of sport that a fan would want to watch with lags and Ads popping up here and there. Therefore, OneVPN is ideal as it has got the speed to eliminate lag and an Ad-Blocker to block ads. It's your best option to watch UFC 203."
Watch UFC on Fox sports with OneVPN
UFC fights are broadcasted on Fox Sports (US) but people residing outside US would need VPN to access these fights. Here's how to watch UFC on FOX Sports:
1.       Subscribe to OneVPN and get your VPN account
2.       Configure OneVPN on your preferred device
3.       Select your server to access content from U.S
4.       Sign in at http://www.foxsports.com/foxsportsgo and start streaming!
Access UFC 203 Streaming via Fight Pass
1.       Connect to a US server
2.       Head to http://www.ufc.tv/page/fightpass
3.       Sign up for an account and enjoy UFC streaming!
About OneVPN
OneVPN provides online security, data protection and anonymity. It also provides access to geo-locked channels with total ease. OneVPN's key features hold in front 256-bit encryption, 24/7 Live Chat Support, Anti-Malware, Ad-blocker and NAT firewall.
Source: Unravel Technologies
Share: