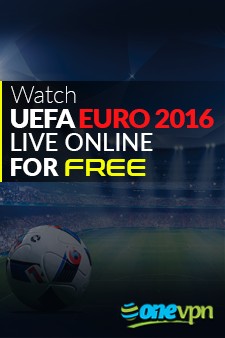 The FREE full-featured service of OneVPN is a gift for the fans of football, specifically ones who can't wait for UEFA EURO 2016. OneVPN gives trouble-free EURO 2016 access to everyone.
Hong Kong, June 16, 2016 (Newswire.com) - UEFA EURO Championship is one of the biggest events in the history of sports, with 24 teams to face each other in 10 different venues. There are thousands of fans in the stadiums and millions watching from home. Those watching online, unfortunately, have to face issues related to inaccessibility of content and slow streaming speed.
A lot of people face trouble accessing European, British and French TV channels for UEFA EURO 2016 streaming, which is where a VPN service plays a good part. OneVPN is giving the devoted fans of UEFA, living in various parts of the world, a key to open the doors of geo-restrictions and stream effortlessly.
How to Watch UEFA EURO 2016?
Here are the simple steps to get going:
1.       Subscribe to OneVPN
2.       Configure and connect the VPN on desired device.
3.       Choose a server of a country from where the access to a UEFA broadcaster is required i.e. France or UK server (or any other).
Start streaming!           
"We had a lot of friends around the world facing troubles while trying to access their favorite sports online. So, the solution to their problem for us was to help them get access to unavailable sites for FREE via OneVPN." Said Farooq Asad, the CTO at OneVPN.
The mentioned statement by the CTO at OneVPN explains how users can gain benefit from their free VPN service while the UEFA EURO 2016 lasts.
While a VPN allows users to access UEFA EURO and other content from around the world, it also protects their privacy and security against a number of threats. OneVPN is offering FREE accounts for a limited time so users are advised to grab their subscriptions while they last and watch UEFA EURO 2016 live online!
Source: OneVPN
Share: